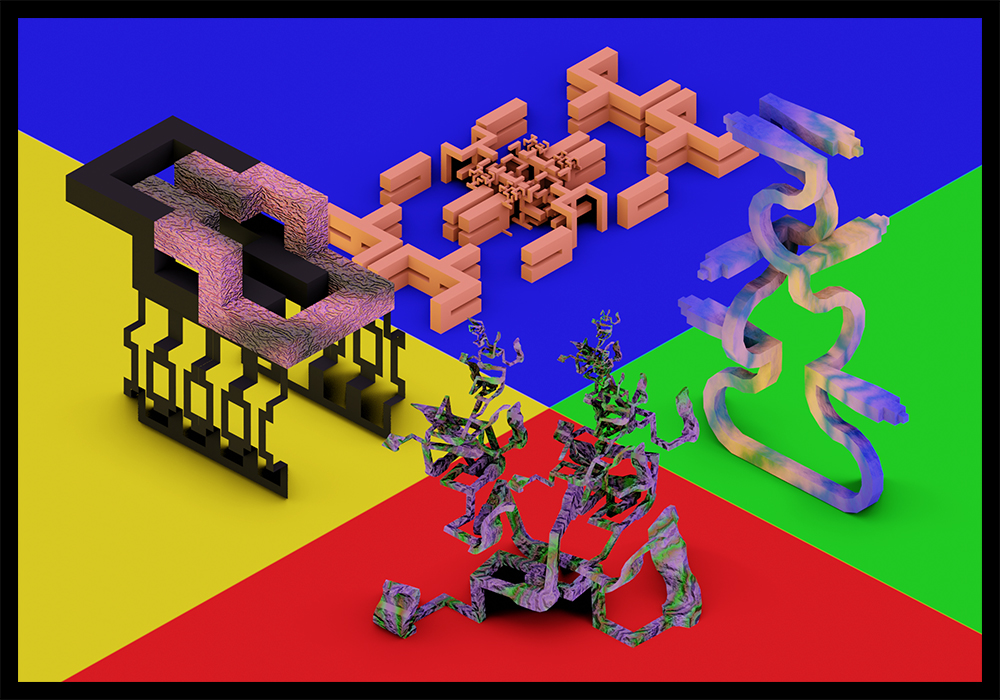 MSHR presents an interactive audiovisual composition in the form of a navigable virtual space. The composition is structured as a sequence of spaces, each housing an interactive audiovisual system made of sculptural and sonic elements. Visitors may explore the cybernetic architecture, "playing" the composition through their exploration. In this game-like virtual domain, time and space are linked as the composition unfolds through spatial navigation.
INSTRUCTIONS TO ENTER:
YOU MAY ENTER ONLINE OR BY DOWNLOADING THE APP
Only for desktops/laptops, no mobile devices.
ACCESS ONLINE:
ENTER HERE
***FIREFOX WORKS BEST*** ***DO NOT USE CHROME (sound is glitchy)*** GIVE IT A MIN TO LOAD... IF U HAVE PROBLEMS, TRY DOWNLOADING INSTEAD~>
DOWNLOAD APP (40mb) :
***MAC INSTRUCTIONS: UNZIP, THEN RIGHT CLICK TO OPEN. IF NECESSARY, GO TO SECURITY SETTINGS TO GIVE PERMISSION FOR THE UNLICENSED APP TO RUN***
NAVIGATION: Use a combination of keyboard keys:

Q/W/E/A/S/D

and mouse to navigate. Specific keys for each space are displayed at the bottom of the windows. Key "N" takes you to the next space

///////////////////// back to

MSHR

///////////////////// ///////////////////// back to

REWIRE

/////////////////////